關於BIOBLAS

研究表示每兩人中便有一個有脫髮情況。為了解決這個情況,BIOBLAS自2008年起便在土耳其向消費者提供了抗脫髮草藥精華配方產品。

BIOBLAS護髮配方內的草藥含量與一般化妝品類護髮產品不同,BIOBLAS的pH值均衡配方適合每天使用,所有產品系列都有抗脫髮效果,能為您創造美麗,健康和閃亮的頭髮。

很多使用過BIOBLAS產品的用戶都感到滿意,主要原因是BIOBLAS可以防止脫髮,而第二個重要的原因就是BIOBLAS能給他們帶來健康的頭髮。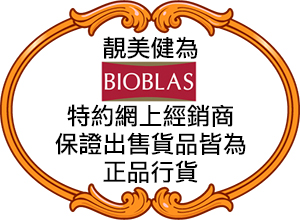 產品描述

這是BIOBLAS給染髮人士使用的特殊配方,可以使頭髮顏色長時間保持鮮明和活力。洗髮水配方內的肌酸(creatine)和神經酰胺(ceramide) 可以很容易地滲透到每根髮絲中,並且會從根部到頭部全面修復頭髮。

肌酸(creatine)可以強化染色頭髮,改善頭髮阻力,而神經酰胺(ceramide)則可以強化頭髮屏障,增添頭髮光澤。

包含肌酸(creatine)和神經酰胺(ceramide)的配方可以保護頭髮的顏色,防止太陽光線中紫外線的負面影響。


About BIOBLAS

Conducted studies indicate that every one person out of two suffer from hair loss. BIOBLAS Anti-Hair Loss Herbal Serum Formula that is offered to Turkish consumers since 2008 offers just the right solution.

BIOBLAS Hair Care formula differs from cosmetic hair care products with its herbal content. Creates beautiful, healthy, shiny hair with volume without ignoring the preferences of individuals in their daily lives. The main reason why users feel satisfied using BIOBLAS is the fact that BIOBLAS prevents hair loss.

And the second important reason why these individuals, who see their hair as the reflections of their beauty are satisfied, is the health that BIOBLAS brings to their hair. BIOBLAS that is suitable for daily use with its pH balanced formula offers solutions to different cosmetic needs with its rich product range besides its anti-hair loss effect.

Product Description

With a special formula for colored hair, BIOBLAS Color Intense enables hair color to stay intense and alive for a long time. BIOBLAS Color Intense Shampoo penetrates easily into each hair strand with its creatine and ceramide content, and repairs the hair from root to tip.

Creatine strengthens dyed hair, improves hair resistance and ceramide reinforces hair barrier, adds shine.

The formula that includes creatine and ceramide protects the hair color against the negative effects of sun rays with its UV filter.