關於BIOBLAS

研究表示每兩人中便有一個有脫髮情況。為了解決這個情況,BIOBLAS自2008年起便在土耳其向消費者提供了抗脫髮草藥精華配方產品。

BIOBLAS護髮配方內的草藥含量與一般化妝品類護髮產品不同,BIOBLAS的pH值均衡配方適合每天使用,所有產品系列都有抗脫髮效果,能為您創造美麗,健康和閃亮的頭髮。

很多使用過BIOBLAS產品的用戶都感到滿意,主要原因是BIOBLAS可以防止脫髮,而第二個重要的原因就是BIOBLAS能給他們帶來健康的頭髮。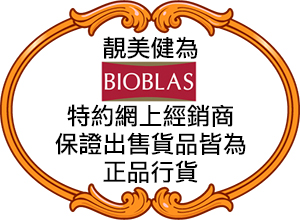 產品描述

BIOBLAS Speed & Long二合一洗髮水可幫助頭髮生長速度更快,生長得更長,滋潤您的頭髮,讓頭髮的質量更細膩和更有光澤。

本產品特別適用於中度發育的頭髮,配方內的植物甾醇(PHYTOSTEROL)會引發頭髮生長,而本草維生素和礦物質則可滋養及強化毛囊,另外成份中的護髮素會為頭髮提供額外的護理和滋潤,保護健康成長的頭髮。

BIOBLAS使用草藥血清配方來補充由脫髮所引致流失的元素,從而幫助加強活體卵泡,解決脫髮問題。本產品是一種天然有機洗髮水,適合男女使用。


About BIOBLAS

Conducted studies indicate that every one person out of two suffer from hair loss. BIOBLAS Anti-Hair Loss Herbal Serum Formula that is offered to Turkish consumers since 2008 offers just the right solution.

BIOBLAS Hair Care formula differs from cosmetic hair care products with its herbal content. Creates beautiful, healthy, shiny hair with volume without ignoring the preferences of individuals in their daily lives. The main reason why users feel satisfied using BIOBLAS is the fact that BIOBLAS prevents hair loss.

And the second important reason why these individuals, who see their hair as the reflections of their beauty are satisfied, is the health that BIOBLAS brings to their hair. BIOBLAS that is suitable for daily use with its pH balanced formula offers solutions to different cosmetic needs with its rich product range besides its anti-hair loss effect.

Product Description

Turkish shampoo organization Bioblas guarantees that its new two-in-one shampoo and conditioner Bioblas Speed and Long will offer hair some assistance with growing longer and speedier, invigorating hair development while conveying hair to another level of delicate quality and shine.

PHYTOSTEROL is high in anti-oxidants and acts like a wellspring of life for your hair. The ingredients are particularly produced for moderate developing hair. It fortifies hair and hair follicles with home grown vitamins and minerals.

Phytosterols empower, reinforces still-live follicles by supplying the components with its natural serum-mixed formula. This indicates that it is a natural and organic shampoo. It enacts hair development at the scalp, saturating and breathing life into a dry scalp. This product is equally beneficial for male and female.